Hmong and Southeast Asian Resource and Information
Demographics
Changes in the 2010 Census provided an opportunity to further refine population statistics and more closely identify different ethnic groups. Fresno State researchers were also able to expand and refine the demographic picture of our students. Of the 2009 new student cohort at Fresno State, 288 or 7% of the undergraduate student population are Hmong, the majority whose families reside in Fresno County.
Hmong Student Profile - July, 2010
Source: Institutional Research, Assessment and Planning at Fresno State
United States Census 2009 Estimates
Total Hmong in the United States: 236,434
(0/7% of 307,006,556).
California has 84,494.
With 32,000 Hmong, Fresno remains the second largest Hmong population in the country, after Minneapolis-St. Paul, Minn. California's Central Valley is home to 47,000 Hmong. (Source)
Central Valley Hmong Demographics
Population
U.S. – 236,434
California – 84,494
Central Valley – 47,000
Fresno – 32,000
Age
Median age – 20.3 (US 36.8)
18+ years old – 55.9% (US 75.7%)
School Enrollment
Elem. School – 43.9% (US 40.0%)
High School – 24.9% (US 21.1%)
College/Grad School – 24.4% (US 27.4)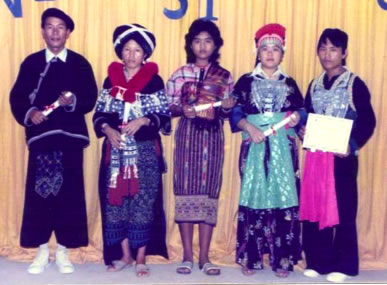 People representing the various areas of Southeast Asia