Ronald E. McNair Biography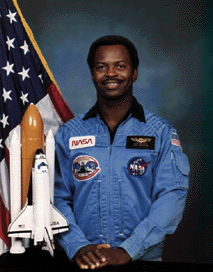 Ronald Erwin McNair was born on October 21, 1950 in Lake City, South Carolina. An African-American born into a climate of racial segregation, Ronald McNair dreamed of becoming a future scientist. His self-determination and motivation resulted in exemplary academic success. He graduated valedictorian of his high school class. Accepted by North Carolina A&T University, he graduated with a B.S. degree in physics in 1971. Continuing his education, he ultimately received his Ph.D. in quantum electronics and laser technology in 1976 at the Massachusetts Institute of Technology (MIT) in Cambridge, Massachusetts. Dr. McNair's academic honors included being named a Presidential Scholar, a Ford Foundation Fellow, a National Fellowship Fund Fellow, a NATO Fellow, winner of Omega Psi Phi Scholar of the Year Award, and Distinguished Alumni Award. In addition to his numerous academic honors, Dr. McNair was an accomplished saxophone player and held a fifth degree black belt in karate.
During his tenure at MIT, Dr. McNair performed scientific experiments and theoretical analysis related to the earliest development of chemical HF/DF and high-pressure CO lasers. In 1975, he studied abroad in France with many authorities on laser physics. His novel research findings were published in several scientific papers in the areas of lasers and molecular spectroscopy. The results of which were many presentations in the United States and abroad. After his graduation from MIT, he pursued a career as a physicist with the Hughes Research Laboratories in Malibu, California. His assignments focused on the development of lasers for isotope separation and photochemistry and electro-optic laser modulation for satellite-to-satellite space communications. This career would lead Dr. McNair closer to the space program, and closer to his career as astronaut.In January of 1978, Dr. McNair was selected as an astronaut candidate by NASA. The following year he would be qualified for an assignment on the Space Shuttle Challenger as a mission specialist astronaut. As a mission specialist on STS 41-B, Dr. McNair flew his first mission, which launched from Kennedy Space Center, Florida on February 3, 1984. The flight was successful, accomplishing the proper shuttle deployment of two Hughes 376 communications satellites. This mission marked the first flight of the Manned Maneuvering Unit and the first use of the Canadian arm, operated by Dr. McNair, to position EVA crewman around Challenger's payload bay. The Challenger concluded its mission in the first landing on the runway at Kennedy Space Center on February 11, 1984. Dr. McNair had logged 191 hours in space.
Nearly two years later, on a cold January morning, Dr. Ronald Erwin McNair would board the Challenger Space Shuttle on his second space mission. On January 28, 1986 tragedy would strike. Shortly after lift off from the Kennedy Space Center, Florida, the Space Shuttle Challenger exploded. Dr. Ronald McNair was one of seven individuals aboard who met an untimely death. Dr. McNair is survived by his wife, Cheryl and his two children.
The United States Congress, named a fellowship program in Dr. McNair's honor, to recognize his remarkable academic and professional achievements. The purpose of the Ronald E. McNair Postbaccalaureate Achievement Program is to encourage low-income individuals who are first-generation college students and/or traditionally underrepresented in graduate education to pursue doctoral study. Named for Dr. McNair, the program serves as a living memorial to a man who overcame seemingly insurmountable odds to be awarded his Ph.D. in physics and later, to realize his dream of becoming an astronaut for NASA. Dr. Ronald McNair once said, "True courage comes in enduring. . . persevering and believing in oneself." His life was truly an example of this statement.