Chicano\Latino Commencement Celebration
46th CHICANO/LATINO COMMENCEMENT CELEBRATION 2022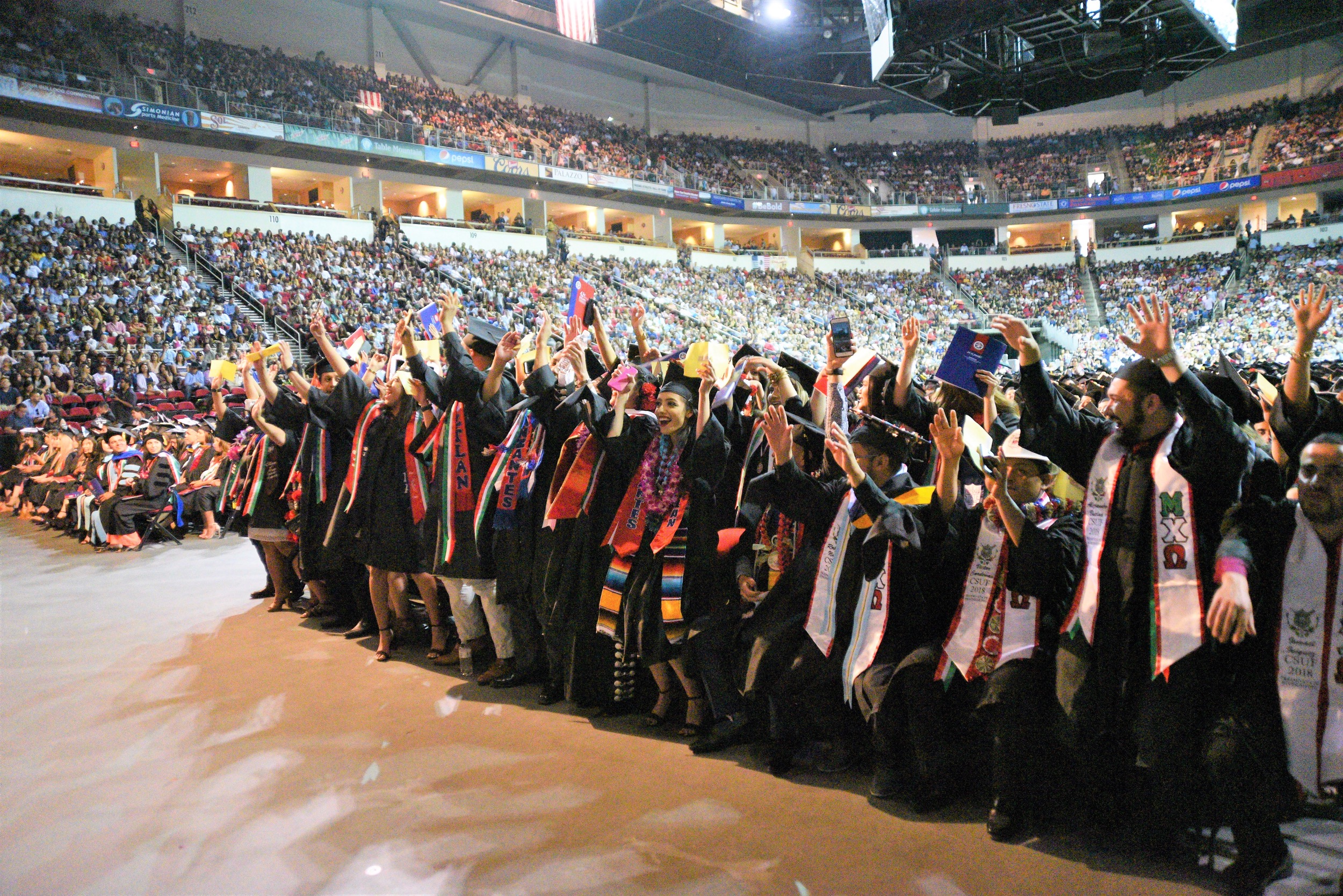 PRIORITY REGISTRATION DATES: MARCH 7 - APRIL 8 2022 (go to "Registration Instructions" tab on the left menu)
LATE REGISTRATION ($10.00 FEE): April 9-15, 2022 [if space permits]
In order to help us plan and conduct a successful Chicano/Latino Commencement Celebration, participating graduates MUST FOLLOW THE INSTRUCTIONS BELOW.
Participation Eligibility: Students that meet ONE of the following criteria will be given priority:
Completed degree requirements in SUMMER or FALL 2021
Applied to graduate SPRING 2022
Your NAME MAY NOT APPEAR in the CLCC Program if you Registere AFTER THE PRIORITY DEADLINE. Please see "Important Dates " for more information.
Students who meet the following criteria will be considered if space permits:
Plans to complete all degree requirements in SUMMER 2022 (if this is your situation, please email clccgrad@gmail.com with your name, student I.D. #, phone number, and term degree will be completed)
These students will be placed on a waiting list. After April 8, 2022, they will be notified and allowed to register for the celebration

if there is space.

NOTE: Students graduating BEYOND SUMMER 2022 WILL NOT be considered for participation in CLCC 2022
IMPORTANT COVID-19 PROTOCOLS PER THE SAVE MART CENTER
Covid-19 Protocols
Please be aware that the Save Mart Center has very strict Covid-19 restrictions in place. ALL graduates and Attendees MUST meet these requirements in order to participate in this event. Below is the link to the SMC and its requirements. A quick summary of the requirements include:
General Information
$35.00 Application fee (non-refundable)
The Sash
Commencement Schedule
Graduation attire and Invitations/Announcements
Mandatory Graduate Rehearsal Session
Information for guests
Special Instructions for CLCC
Official Video recording of the event
1. $35.00 Application fee (non-refundable)
The graduate participation fee covers the costs associated with CLCC (use of the Save Mart Center, programs, SMC security and staff, etc.).
2. The Sash
Each student will receive ONE complimentary sash representing ONE National Heritage selected during registration. We can only guarantee a sash from a Latin American country, Hispanic Carribbean countries, Spain, and the USA. The sash will be distributed at TBD times and dates (see Important Dates). Proof of registration and photo I.D. is required to pick up the sash. You CANNOT pick up anyone else's sash. A replacement will NOT be provided if it is lost or damaged.
3. Commencement Schedule
The Fresno State Chicano/Latino Commencement Celebration will be held on Saturday, May 21, 2022 at the Save Mart Center (SMC).
Time: 7 pm to 9:30 pm
Graduates are required to meet at the loading dock on the northeast corner of the Save Mart Center Building by 5:00 pm. Doors open to the public at 5:30 pm.
4. Graduation attire and Invitations/Announcements
Academic regalia is required. Caps, gowns, and invitations/announcements will be available for purchase at the Kennel Bookstore (look for updates). Graduate Students will be hooded at the ceremony.
5. Mandatory Graduate Rehearsal Session
One practice session is scheduled for CLCC participants on May 19th at 5:00 pm. Graduates must attend. If there is a conflict with your final exam schedule, attempt to stop by after your exam(s). If you have friends attending, get information from them. Due to the size of the celebration, there is a particular format/logistics to the procession. If it goes well, we will have time to include your parents' first names. If the procession takes too long, we will have to eliminate this essential element. PLEASE ATTEND.
6. Information for guests
Guest with Wheelchairs - Seating for people with disabilities is available throughout the arena and you are encouraged to seek usher assistance. Due to limited space, only one person is permitted to accompany a person in a wheelchair.
Guest with Hearing Impairments - An ASL interpreter will be stationed at the lower section/rows of Section 111 (Shaw Avenue side).
If you have specific questions regarding access for persons with disabilities (beyond what we have on the website), please contact Services for Students with Disabilities at 278-2811.
Admission to the celebration is free, but there are Covid-19 protocols in place (see above). There will be free parking available in the parking lots north of the Save Mart Center (see also Parking information below).
7. Special Instructions for CLCC
Graduates must arrive at 5:00 pm at the loading dock on the northeast corner of the Save Mart Center Building on the day of the event. EACH graduate must check-in to verify registration via QR CODE (will be emailed to you). NO EXCEPTIONS. Vaccination status will also be verified. IMPORTANT: Graduates must be prepared to form the procession lines by 6:30 pm. CLCC volunteers will be available to assist in this process.
8. Official Video recording of the event
A video of the event will be produced and made available via the CLCC Youtube channel ("Fresno State CLCC Youtube Channel). It will include segments of the event as well as the recognition of all graduates.
Parking Information
Due to the expected high traffic volume generated by the commencement celebrations on this day, please see the SMC Parking MAP for information on alternate routes and recommended places to park.
Since graduates are required to arrive early, we encourage them to park in Lots P5/P6 (west of the rodeo) or in the solar paneled parking area (west of the SMC) - see red stars in map below. This will help you plan for early arrival and departure from the Save Mart Center.