Division of Research and Graduate Studies
Dr. Mamta Rawat wins - 2004 Claude C. Laval Jr. Award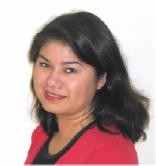 FRESNO, Calif. (April 12, 2004) -- Dr. Mamta Rawat, an Assistant Professor in the Department of Biology, has been selected as this year's recipient of the Claude Laval, Jr. Award for Innovative Technology and Research for her proposal, "Bioremediation of Toxins with Mycobacterium Smegmatis."
Dr. Rawat obtained her Bachelor of Science from University of Toronto and her Ph. D. from Louisiana State University. Her postdoctoral work focused on the biosynthesis of mycothiol, a thiol unique to a group of bacteria called Actinomycetes. This group includes the genus Mycobacterium, which has known pathogens like Mycobacterium tuberculosis, the causative agent of tuberculosis and also soil-dwelling bacteria.
The primary focus of her research is the role of mycothiol in pathogenesis of diseases such as tuberculosis. Mutants disrupted in genes involved in the biosynthesis of mycothiol and thus lacking mycothiol are more sensitive to oxidative stress, toxins and antibiotics indicating that mycothiol plays an important role in detoxification of these agents in mycobacteria. She is interested in identifying the mycothiol dependent proteins that are responsible for this detoxification using conventional biochemical and genetic engineering techniques.
These proteins may play a major role in the pathogenesis of tuberculosis by aiding the survival of M. tuberculosis in the human body. Identification and characterization of these genes and proteins may result in novel drugs and vaccines against tuberculosis. A second focus of her research is the bioremediation capacity of mycobacteria. Bioremediation is the use of naturally occurring microorganisms to enhance the degradation of pollutants and toxins in contaminated soils so that they are no longer hazardous to human health and the environment.
The Claude Laval, Jr. Award for Innovative Technology and Research is providing the funds to support this important aspect of her research. Many species in the genus Mycobacterium are soil-dwelling saprophytes that degrade natural organic material as well as man-made pollutants in contaminated soils.
One of these soil-dwelling organisms, Mycobacterium smegmatis, is routinely used as a model system to study the biochemistry of M. tuberculosis and thus genetic and molecular biology tools such as mutant libraries and sequence data have been developed for this organism. Dr. Rawat is investigating the growth of M. smegmatis on herbicides, fungicides and toxic dyes.
She has demonstrated that M. smegmatis is able to detoxify the toxic dyes, malachite green and methyl violet, and the herbicide, paraquat. A transposon mutant library is being screened to identify mutants that are unable to grow on these toxins in order to identify the genes in the degradation pathway of these pollutants. This knowledge will ultimately aid in genetically engineering microorganisms that are able to detoxify and bioremediate many pollutants.
Administered through the University Grants and Research Office, the Laval award was established in 1984 in honor of Mr. Claude C. Laval Jr., a long-time resident of Fresno and a productive inventor. The award has supported the development of innovative technology and related research at Fresno State. Funding is provided by a gift to the university from Mr. and Mrs. Claude C. Laval III.
For more information, contact Douglas Carey in the Grants and Research office, 278-0856.