Division of Research and Graduate Studies
Archived RSP Newsletters
Faculty Highlights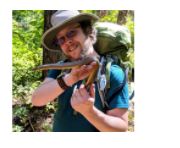 Dr. Rory Telemeco, Assistant Professor, Department of Biology
Chair, Institutional Animal Care and Use Committee (IACUC) Dr. Telemeco recently spoke with us about his background and role as new IACUC chair. The committee is responsible for ensuring the ethical treatment of vertebrate animals on campus. "We ensure that all animal use meets the requirements of the United States Animal Welfare Act and the National Institutes of Health Office of Laboratory Animal Welfare guidelines," he said.

Dr. Morgan J. Hawker, Assistant Professor of Chemistry
From starting up her own lab to teaching through a pandemic, chemistry professor Morgan Hawker's first year at Fresno State has certainly been eventful. Hawker recently received a CSUPERB New Investigator Grant to develop a plasma-based approach to fabricate two classes of silk films with opposing surface properties. She recently spoke about the grant and other topics, including her plans for this fall.

Dr. Jennifer Randles, Chair and Associate Professor, Department of Sociology
Communication is key for Dr. Jennifer Randles, who has transitioned smoothly into her new role as Chair of the Institutional Review Board (IRB), also known as the Committee for the Protection of Human Subjects (CPHS). Dr. Randles recently spoke with us about her work as a sociologist and her plans to keep the lines of communication open during the IRB process here at Fresno State.