Division of Research and Graduate Studies
Nancy Myers Sims chosen director of sponsored programs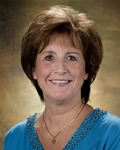 Ms. Nancy Myers Sims has been appointed to serve as Director of Sponsored Programs. Her appointment results from a restructuring of the Office of Research and Sponsored Programs.
Ms. Sims has 26 years of experience in sponsored programs. Her career began in the Office of Graduate Studies and Research at CSU Bakersfield where she assisted faculty with grant development for 17 years. While at CSUB, she served as liaison to the Foundation Board through its Research Subcommittee, organized the local Student Research Competitions, and served on the Staff Forum.
Ms. Sims went on to serve for two years as Grant Writer for the Bakersfield City School District.
Since arriving at Fresno State in 1997, her activities have focused on grant development with faculty in the Colleges of Science and Mathematics, Agricultural Sciences and Technology, and Social Sciences. She has also served as liaison to the IRB and IACUC and serves as a member of the university Biosafety Committee.
In 2006 Ms. Sims was honored with the Outstanding Service Award by the College of Science and Mathematics.
Ms. Sims received her Master of Public Administration degree from CSUB in 1996.
News Archives