Division of Research and Graduate Studies
Doug Carey, MA
Director, Research and Sponsored Programs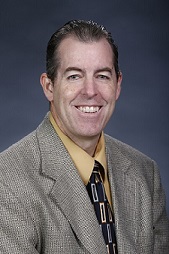 Doug Carey has served in the Office of Research and Sponsored Programs in several roles since joining Fresno State in January 1999. After working as an administrative analyst for eight years, he served as a research administrator for the next 12 years and assisted the College of Arts and Humanities, Craig School of Business, Health and Human Services, Kremen School of Education and the Library with their grant development efforts. He was named director in July 2019.

Doug currently manages the department's social media efforts and has served on the coordinating committee for the Central California Research Symposium for the past 20 years.
He began his career in higher education at San Jose State University, where he worked as a marketing and publications specialist in continuing education.

Doug holds bachelor's and master's degrees in Mass Communication and Journalism from Fresno State. He earned the designation of Certified Research Administrator (CRA) from the Research Administrators Certification Council (RACC) in 2017 and is an active member of the National Council of University Research Administrators (NCURA).
Contact Info
Ph: 559-278-0964
Fax: 559-278-0992
E-mail:
dcarey@csufresno.edu