Division of Research and Graduate Studies
Gayle Sherwood
Grants & Research Administrator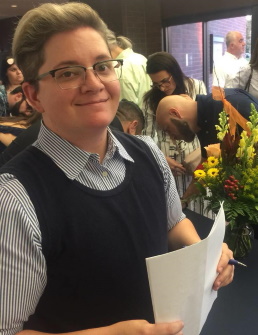 Gayle Sherwood joined the Division of Research and Graduate Studies in March 2016 after working for eight years as a public servant with the Superior Court of California, County of Fresno. She was appointed as a Research Administrator after 2.5 years as our Grants and Research Analyst.
Gayle has extensive training and experience submitting grants to the National Science Foundation, National Institutes of Health, and many other federal, state and local sponsors.
As a former operations supervisor, Gayle is also skilled in project management, staff development, operations management, software implementation and procedure writing.
She assists the College of Science and Mathematics, College of Social Sciences, and College of Arts and Humanities with their grant and contract efforts.
Gayle has a Bachelor's degree in Art and a Master's degree in Criminology.
Contact Info:
Thomas Administration Building, Room 121
Email:
gasherwood@csufresno.edu
Phone:
559.278.0539