Sustainability at Fresno State
Welcome to Fresno State Sustainability
"[Sustainability] addresses the interdependencies between social, economic, cultural and environmental dimensions of life."
- United Nations Educational, Scientific, Cultural Organization (2012)
There are many efforts across the Fresno State campus to create a university that not only has a decreased environmental impact on the surrounding community, but that also works to innovate a cleaner future.
These pages serve as a gateway to everything sustainability-related at Fresno State. Here, you will find information on sustainability-related innovation and research across the university's four branches of sustainability on campus, a showcase of Facilities Management's best practices on campus, student and faculty research projects conducted in collaboration with community partners, academic-related programs, and opportunities for education and engagement with the greater community regarding sustainability issues and challenges in the San Joaquin Valley.
Fresno State is an AASHE STARS Bronze institution. Learn more about this certification here.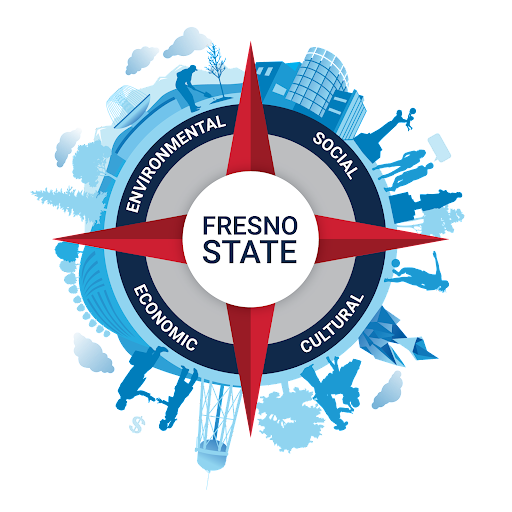 Branches of Sustainability at Fresno State
Sustainability Task Force

The Sustainability Task Force is an entity on campus that works to endure that the university is on the right track by meeting state and CSU-wide standards.

Sustainability Club

The Sustainability Club is a student-run organization on-campus that works to raise awareness for the environment among the student body.
Climate Action Fellows

The Climate Action Fellows (Central Valley College Corps) work with community partners to implement sustainability into the surrounding community.

ASI Sustainability Committee

The ASI Sustainability Committee is a committee that represents the interests in sustainability in student government. It is headed by a sustainability senator.
Quick Links