DISCOVERe Mobile Technology Program
RefMe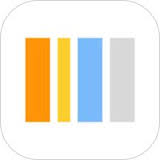 RefME is the world's leading and most accurate multi-platform tool for automating citations, reference lists and bibliographies in over 7,500 citation styles, including Harvard, MLA and APA. The RefME app allows users to generate citations by scanning book or journal barcodes and sync them with RefME.com.
Features:
Scan book or journal barcodes using your phone's camera to generate citations in seconds
• No barcode? Search by Book/Article Title, ISBN, ISSN, DOI or URL.
• Citing a website? Simply paste in the URL or use iOS Safari Extension, which syncs with the app and is perfect for citing websites and other sources.
• 7,500+ supported citation styles including Harvard, APA, MLA, Chicago and AMA as well as most institute-specific styles
RefME is free to download and use. RefME Plus upgrades your experience and gives you access to:
• Photo Quotes: take a photo of any text and our mobile app will convert the image into editable text for you to save as a quote
• RefME for Word: cite as you write and manage your bibliography from within Word 2016 for Windows and Word for iPad
• With more features coming soon