DISCOVERe Mobile Technology Program
DISCOVERe Faculty Experience
Our students need to learn content in interactive ways as well as master the myriad of digital tools they will use in their careers. We are able to provide digital learning experiences through courses specifically designed to integrate technology in an engaging way. Through the Office of IDEAS hundreds of faculty have been trained to design digital experiences in the classroom. Faculty consider how to engage students in course material and provide an equitable education experience by leveraging the technological capabilities of an iPad.
When students arrive on campus and receive their iPad we know we are providing a tool that has the potential to address resource inequity. As we train more and more cohorts of faculty on how to design for the use of iPad technology we know we are addressing inclusion in the classroom.
Instructors spend an entire semester designing their first course as they learn how the union of technology and pedagogy impacts student learning. After their initial course design they engage in a Faculty Learning Community to support and iterate on the implementation of their course. After their development experience instructors are equipped with the tools to redesign their other courses. This allows us to scale addressing both resource inequities and inclusion in the classroom.
Faculty interested in participating in the DISCOVERe program - view more information.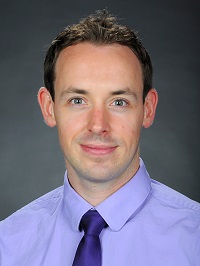 Dr. Dermot F. Donnelly is an Assistant Professor of Chemical Education at Fresno State, an Assistant Director of the Andrews STEM Education Center, and the President of the Untenured Faculty Organization. Dr. Donnelly joined Fresno State in Fall 2015.
Dr. Donnelly specializes in the role of instructional technologies to support enhanced student ownership and understanding of scientific concepts. Such instructional technologies include simulations, virtual laboratories, and online science learning environments. Other research interests include curriculum development and evaluation, professional development of teachers, and power dynamics in science classrooms.
Dr. Donnelly teaches physical science classes to elementary pre-service teachers (NSCI 1A), general chemistry classes to non-chemistry majors (Chem 3A), and laboratory teaching techniques to graduate students (Chem 201). Dr. Donnelly is also a Faculty Advisor to the Chemistry Club at Fresno State.
Dr. Donnelly, a native of Ireland, earned his B.Sc. in Physical Science Education and his Ph.D. in Chemical Education at the University of Limerick, Ireland. He spent a year as a postdoctoral researcher at Victoria University of Wellington, New Zealand and 3 years as a postdoctoral researcher at the University of California, Berkeley.
My teaching tip is to connect course concepts/ideas to everyday life as much as possible, whether through examples, talking to others at Fresno State, or reaching out to people in the community. The majority of students need to see the connection of concepts/ideas to their lives, their future careers, or how it can impact others in order to engage and appreciate their value.
The Center for Faculty Excellence has been and continues to be a terrific support for improving my teaching through several innovative professional development programs such as the DISCOVERe Mobile Technology Program, the Affordable Learning Solutions Program, and Project-Based Learning Program.
First, as a result of DISCOVERe, I now use several online platforms in class to support a learning environment where all students feel safe and comfortable to share their ideas with me on these platforms, whether right or wrong, without fear of being embarrassed in front of peers. Second, the Affordable Learning Solutions Program has supported me to identify and integrate free textbooks in my classes which can save each student on average over $100. Lastly, the Project-Based Learning Program has led to a collaboration with a local school where my class of future teachers can implement their own Science lessons in a real classroom.