Volunteers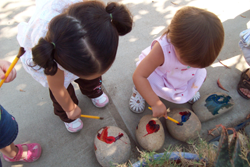 Part of the mission of Fresno State Programs for Children (PFC) is to build positive collaborative relationships with academic programs. Consequently, PFC welcomes volunteers to work in the centers either directly with the children or in support positions. In order to provide positive experiences for visiting volunteers and program staff, and to make sure the program is in compliance with local and state regulations the following criteria, procedures, and documentation are required.
All volunteers must register as University volunteers by completing the Fresno State Volunteer Application and Appointment Form.
All volunteers must submit the following documents prior to working in PFC centers:

Personnel Record
PFC Volunteer Information Form
Current syllabus that specifies requirements for volunteering in the children's centers
Proof of negative tuberculosis status (skin test or chest x-ray)

In instances where students volunteer in the centers as part of a group, such as for Child Development practicum courses or student teaching assignments, the professor will meet with the PFC program director or designee prior to students beginning their assignments in order to make sure that required documentation is submitted and Community Care Licensing requirements are met.
All volunteers will be required to wear a name badge that identifies them as a volunteer. Volunteers may be requested to provide additional professional information about their background or purpose for working in the centers. This information may be shared with parents.