Division of Research and Graduate Studies
Fresno State Psychology Major Receives Second Place Honors at CSU Student Research Competition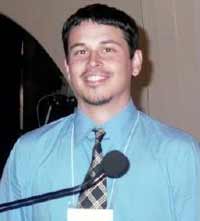 Camarillo, Calif. (May 6, 2006) – Fresno State psychology major Marcel Garcia received second place honors at the 20th annual California State University Student Research Competition, held May 5-6 at CSU Channel Islands.
Garcia was one of eight students representing Fresno State (below), and his award comes just weeks after receiving first place for the best oral presentation (undergraduate) at the Central California Research Symposium, held at Fresno State's University Business Center. At CSU Channel Islands, Garcia received the second-place award in the undergraduate session of the Behavioral and Social Sciences category.
As part of Garcia's presentation, "Effects of Lexical Competition on Audiovisual Integration in Speech Perception," he investigated the perceptual integration of audiovisual information in speech perception. This is important to explore, he writes, "because of possible implications this research has in understanding how the representations of spoken words in memory affect not only auditory, but also audiovisual speech perception."
Garcia, who is graduating this month with a B.A. in psychology, lists Dr. Lorin Lachs as his faculty mentor. He is also a 2006 McNair Program Scholar.
Complete list of winners from CSU Channel Islands
CSU Student Research Competition
Name
Title/Category
Philip S. Abode
Exploratory Study of the Relationship Between Strategy and Performance among California's Largest Unified School Districts
Faculty mentor: Sharon Brown-Welty / Education
Silvestre Aguilar
Fermion generations, masses and mixings in a 6D brane model
Faculty mentor: Douglas Singleton / Physical and Mathematical Sciences
Marcel Garcia
Effects of Lexical Competition on Audiovisual Integration in Speech Perception
Faculty mentor: Lorin Lachs / Behavioral and Social Sciences
Guiseppe Getto
The Ethics of Critical Ethnography: Negotiating the Power Dynamics of Collaboration
Faculty mentor: Anthony Michel / Humanities and Letters
David E. Lewis
Discrimination of Dynamic Forces Using Cross Modal Matching: Do we hear the weight of a ball?
Faculty mentor: Lorin Lachs / Behavioral and Social Sciences
Maribel Moreno
The Influences of the Arabic language in Castilian
Faculty mentor: Philip Schafer / Humanities and Letters
Ivana Pavic
A Hamilton-like vector for the special-relativistic Coulomb problem
Faculty mentor: Gerardo Munòz / Physical and Mathematical Sciences
Jose Ramon Llamas Toscano
Supernumeraries of First and Second Order Rainbows
Faculty mentor: Dr. Vans Hans der Noordaa / Physical and Mathematical Science
Related Links:
Past Competition Results