Division of Research and Graduate Studies
15th Annual - CSU Student Research Competition Results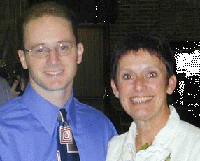 SAN JOSE, CA (APRIL 30, 2001) – Two California State University, Fresno students were named outstanding presenters Saturday at the 15th annual California State University Student Research Competition, held at San Jose State University.
Dr. Thomas McClanahan, Associate Vice President for Grants and Research at Fresno State, explained that the system-wide conference exhibits excellent research by CSU undergraduate and graduate students from all 23 CSU campuses. Each of the eight academic schools submitted the names of their top candidates to represent the university at this event. A jury of professionals judged the conference presentations in the various academic disciplines, and awards were presented to the winning student researchers.
A total of 156 students presented their research in nine different categories, and two California State University, Fresno students were named as the outstanding presenter in their category.
Susan Rae Macy received first place in the Education category for her presentation, "The Validity and Reliability of Program Quality Review as a Process for Educational Program Evaluation in California's Elementary Schools." Macy's award is named in honor of Assemblywoman Elaine Alquist (D-Santa Clara), who was present to make the award announcement. Macy received her doctoral degree in Educational Leadership last May, and her faculty mentor is Dr. Sharon Brown-Welty.
Colby J. Linder received first place in the Biological and Agricultural Sciences graduate division for his presentation, "Ovarian Development Inhibition by Methyl Farnesoate in the Tadpole Shrimp Triops Longicaudatus." Santa Clara County Supervisor James Beall Jr. made the award presentation. Linder, who is pursuing a master's degree in biology, tied for first place at the Central California Research Symposium at California State University, Fresno on April 20. His faculty mentor is Dr. Brian Tsukimura.
Eight other participants from California State University, Fresno presented at the CSU Student Research Competition: Christy Fiorentino, Michelle Karell, Andrew Lilles, Jovita Ornelas, Lori Orosco, Bonnie Tomasovich, Sajeemas Pasakdee, and Lany Sivongsay.
For additional information, including research abstracts or participant contact information, please contact Douglas Carey at (559) 278-0840.
Past Competition Results