Division of Research and Graduate Studies
19th Annual - CSU Student Research Competition Results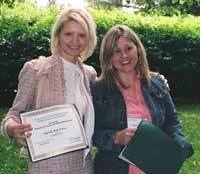 SACRAMENTO (May 5, 2005) - Two students from California State University, Fresno were honored for their oral presentation at the 19th annual CSU Student Research Competition, held at CSU Sacramento on April 29-30.
The system-wide conference exhibits excellent research by CSU undergraduate and graduate students from each of the 23 campuses. Each of the eight academic schools submitted the names of their top candidates to represent the university at this event. A total of 164 students presented their research in nine different categories.
Andrada Anghelescu (above, left) was named the second-place winner in the Business, Economics, and Public Administration category for her presentation, Bankruptcy prediction in the high-tech industry. Anghelescu's faculty mentor is Benjamin Tai.
In the Education category, Naomi Kent (above, right) received second-place honors for her presentation, Duration of Teacher Participation in an NSF-Sponsored Professional Development Program: Relationship to Students' Mathematics Achievement. Kent's faculty mentor is Carol Fry Bohlin.
California State University, Fresno was also represented by six other participants at the CSU Student Research Competition: Amy Lukianov (Education), Matthew Beene and Diganta D. Adhikari (Biological and Agricultural Sciences), Doug Carey (Arts and Humanities), Lisa Gaitero (Health, Nutrition, and Clinical Sciences), and Morghan Young (Behavioral and Social Sciences).
The Office of Research and Sponsored Programs (ORSP) manages Fresno State's participation in the CSU Student Research Competition. For additional information, including research abstracts or participant contact information, please contact Dr. Thomas McClanahan or Mr. Douglas Carey at (559) 278-0840.
Past Competition Results