The Smittcamp Family Honors College
What Can Fresno State Offer You?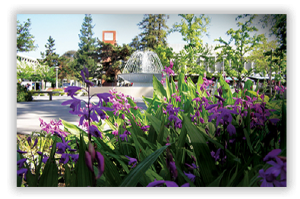 What are you looking for in a university? Academic reputation? A vibrant student body? Networking opportunities with faculty and alumni? Whatever it is, odds are you'll find it at California State University, Fresno.
As a candidate for the President's Honors Scholarship in the Smittcamp Family Honors College, you may have certain predisposed beliefs about Fresno State and the California State University system as a whole. Maybe you've been led to believe that a CSU can't offer you the level of education you're seeking. Or perhaps someone has told you that receiving a degree from a CSU won't impress on a resume.
We don't subscribe to those beliefs, and neither do our students. The facts speak for themselves.
Typically, Smittcamp Family Honors College awardees receive additional acceptances from institutions such as Columbia, Stanford, UC Berkeley, UCLA and USC. Yet, ultimately, they choose to join the Smittcamp Family Honors College.
Why? Everyone has his or her own reason. For some, it is the four-year scholarship. Others like the small class sizes and collegial atmosphere. Or perhaps it is Fresno State's notable faculty and nationally recognized programs.
On this page you'll find just a few of the reasons you should choose Fresno State.
---
Academic Excellence
As a leading campus in the California State University system, Fresno State offers many programs that rival or exceed what UC campuses and private institutions provide.
26 nationally accredited departmental programs
136 undergraduate majors
60 master's degrees
33 credential programs
6 doctoral programs
53 certificates of special study and 8 certificates of advanced study
The region's number one producer of professionals, teachers, and administrators
---
Eight Schools and Colleges, plus Two Divisions:
---
Research
---
Location
Fresno State is at the geographic center of California, about a three-hour drive from Los Angeles or San Francisco.
Yosemite National Park and Sequoia & Kings Canyon National Parks — some of the world's most breathtaking scenery and natural wonders — are just a short drive away.
The Fresno metropolitan area is home to nearly 1 million people. Fresno has all the amenities of a big city, yet retains a friendly, atmosphere.
Industry, while traditionally agriculturally based, is today gaining distinction for its growing high-tech enterprise and innovative future focus including renewable energy development.
---
Student Life
Fresno State hosts a broad and diverse range of student clubs and organizations. President's Scholars are often centrally involved in these organizations as well as in student government (Associated Students, Incorporated). President's Scholars Jennifer Reimer and Russel Statham have served on the California State University Board of Trustees.
Fresno State has some of the best collegiate sports programs in the nation. Bulldog student athletes play professionally, have won Olympic medals, and hold distinguished coaching assignments. Our women's softball team is a consistent national power, the men's baseball team won the 2008 NCAA National Championship, and our football team plays regularly before national television audiences.
Our on-campus events center, the 16,000 seat Save Mart Center, hosts some of the biggest entertainment acts in the world, including The Rolling Stones, Andrea Bocelli, Tim McGraw, The Black Eyed Peas, and John Mayer.