Division of Academic Affairs
Faculty Resources
Office of Research and Sponsored Programs
The mission of the Office of Research and Sponsored Programs (ORSP) is to advance University research and support the efforts of faculty, students and staff in fulfilling a wide range of goals.
Information on the ORSP website includes (but is not limited to) proposal development; and programs that support faculty research activities; including the Laval Award for Innovative Technology and Research, Research, Scholarship and Creative Activities Awards.
Center for Faculty Excellence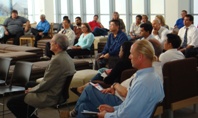 The Center for Faculty Excellence provides faculty professional development, technology training, support and development of academic uses of technology. The center's mission is "to inform and transform learning and teaching through practical, creative and innovative pedagogy."
Program Review
Program Review information is available in the Forms & Policies section of this website.
Helpful Links
Title V - HSI Grant
Information and how to become involved
Faculty Accomplishments
Go to Academics current events on FresnoStateNews.com