Meet the Office of IDEAS Team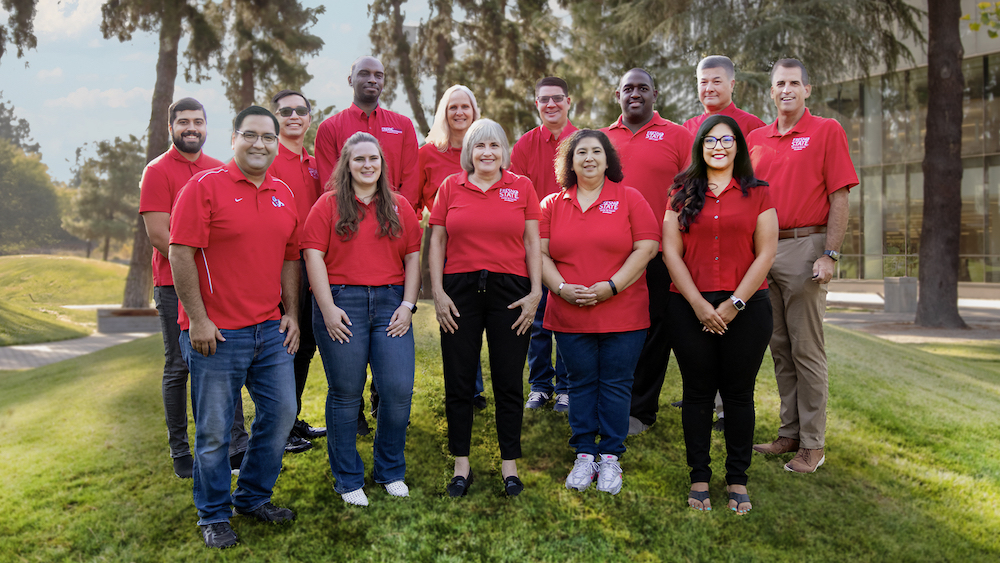 IDEAS Team
Pictures
About

Angelica Lopez - Administrative Analyst Specialist

Angelica has worked as an Administrative Analyst since 2020. Angelica specializes in Budget and is responsible for financial overview and planning for the office of IDEAS and also is the Site Coordinator of the Fresno State Visalia Campus. She is known for her willingness to help and dependability.
Angelica earned a Bachelors of Arts in Public Administration from Fresno State. Outside of work, Angelica enjoys traveling and spending time with her French Bulldog "Little Richard."

Armando DeAlba - DISCOVERe Program Coordinator

Armando has worked as a project coordinator since the summer of 2021. He specializes in digital mobile technology and is responsible for the coordination of the DISCOVERe program and the campus wide distribution of iPads, hotspots, and more. He is known for his collaboration and resourcefulness.

Armando earned degrees in Biology and Chemistry from Fresno State and is currently working on his Masters degree in Biotechnology. Outside of work, he enjoys reading comic books and playing soccer on weekends with his team.

Ashley Abrahamson - Universal Design for Learning Accessibility Specialist

Ashley provides a broad variety of services to support access and inclusion at the university, and is responsible for supporting efforts to increase the accessibility of course resources. Prior to joining the Office of Ideas Ashley worked as the University Inclusion Coordinator for the Wayfinders program at Fresno State.

Ashley earned a Masters degree in Curriculum and Instruction from Fresno State. Outside of work, Ashley enjoys reading books at the library and caring for her collection of houseplants.

Bryan Berrett, Ed.D - Director, Office of IDEAS

Dr. Berrett is a professor of deaf studies and served as the director of the Center for Faculty Excellence from 2016 until the formation of the Office of IDEAS in 2021. Previously, he served in a variety of capacities in the College of Health and Human Services and as department chair in Communicative Sciences and Deaf Studies. He earned his doctorate in educational technology from Pepperdine University, is a graduate of the management development program at Harvard, and is a PROSCI certified change management practitioner. Bryan is responsible for several university-wide and system change initiatives including Quality Learning and Teaching (QLT), Universal Design for Learning, Affordable Learning $olutions, Canvas adoption, DISCOVERe, Ally, CSUCCESS and virtual instruction. Each of these initiatives aligns with our commitment to technology, inclusion and pedagogy to empower faculty and students for success.

Chris Samaro - Academic Media Specialist

Chris has worked as a video producer since 2010. He specializes in short storytelling and long-form media and seeks to tell stories of the faculty and students at Fresno State. Chris is known for his work ethic, creativity and care for the project and people around him. Prior to Fresno State, Chris worked downtown at CMAC (Community Media Access Collaborative) and UC Merced as a video producer as well.

Chris earned a Bachelor's in Mass Communication and Journalism from Fresno State.

Outside of work, Chris enjoys roller skating, new virtual reality experiences and pretending to learn and comprehend complex theories like string theory and anything related to quantum computing.

Diahann Gutierrez - Administrative Support Assistant

Diahann Gutierrez has worked as an Administrative Support Assistant since 2001. She specializes in event planning for the Office of IDEAS. Prior to working at Fresno State, she worked as Educational Advisor with the local community colleges.

Diahann earned a M.S. Degree in Counseling in Higher Education and B.A. in Chicano Studies from Fresno State.
Outside of work, Diahann enjoys spending time with her family and her Chihuahua, Diego.

Eric West - Academic Media Specialist

Eric has worked in television and media production for over 30 years and has been a media specialist at Fresno State since 1999. He has extensive experience in many aspects of video production and has worked in television broadcast operations, directed live news broadcasts, and has worked as television freelance camera operator for live broadcast sports. Eric specializes in the creation of instructional media content and oversees video support needs for high-profile campus live events.

In his personal time Eric loves to spend time outdoors, and he and his wife love to travel.

Jason McGensy - Instructional Designer

Jason has worked in higher education since 2015, specializing in the areas of online course development, instructional media development, and academic technology support. He has also served on a wide-range of committees including matters of policy, budget, procurement, and employee appreciation. Before working in higher education, Jason worked in TV Broadcast Operations for 8 years and he has over 20 years of experience in church media and event production.
When he is not serving our campus, you can find Jason chasing his kids around, fixing up things around the house, or watching Brooklyn Nine-Nine, The Office, or House Hunters.

JoLynne Blake - Instructional Designer

JoLynne Blake is an Instructional Designer in the Office of IDEAS. JoLynne works with faculty to create/redesign synchronous and asynchronous courses that implement technology in ways that benefit both students and instructors. JoLynne's experience teaching at the junior college level for many years has led her to keep students in the forefront when assisting faculty. She also provides lead support for many university-wide programs including Student Ratings of Instruction, GE Portfolios, and is a PROSCI change management practitioner.

Mike Bach - LMS Technical Lead

Mike was born in South Korea and immigrated to the US in 1968 and grew up in Kentucky. Served 10 years in the Army and finished BS at Fresno State in Electrical Engineering.

Natalie Muñoz, Ph.D - Director, Center for Faculty Excellence

Dr. Muñoz received her BA from Fresno State in French and Russian and her MA and PhD from UCLA in French and Francophone Studies, specializing in Medieval French Literature and Women's Studies. Natalie returned to Fresno in 1999 and started teaching French and Humanities as part-time faculty in the Department of Modern and Classical Languages and Literatures (MCLL). She left teaching to stay home with her three young sons in 2003. In 2008, Natalie earned a Single Subject Teaching Credential from Fresno State and taught French in high school for two years. She returned to Fresno State in 2010 as the Single Subject supervisor for MCLL and taught the world language methodology course and a few French classes. In 2012, she started on the tenure-track path and she currently serves as an Associate Professor in French and the department chair for MCLL.

William Hardaway - Instructional Designer

William Hardaway has a background in design thinking, product design, and student services. William received his Bachelor's Degree in philosophy from Fresno State as well a Masters Degree in Higher Education Administration and Leadership where he wrote a thesis on creative problem solving as a tool to address inequities in higher education. He is passionate about the role instructional design plays in technology in the classroom as well as inclusive teaching.

YetChun Fong - Academic Technology Specialist

YetChun Fong is a Fresno State Computer Science graduate, he earned his bachelor's degree in Fall 2022. Before he became a Academic Technology Specialist in Spring 2023, Fong was a Lead Guide at the DISCOVERe hub. Fong provides support in issues regarding Canvas and a multitude of other digital platforms that are used by students, faculty, and staff at Fresno State.

Fong is from Malaysia and is multilingual, speaking English, Mandarin, Malay and some Chinese dialects.
In his free time, Fong is a beta tester and thoroughly enjoys learning about up-and-coming technologies. Fong also enjoys traveling, and in his travels, he loves exploring new flavors and dishes.