Lessons from the Lounge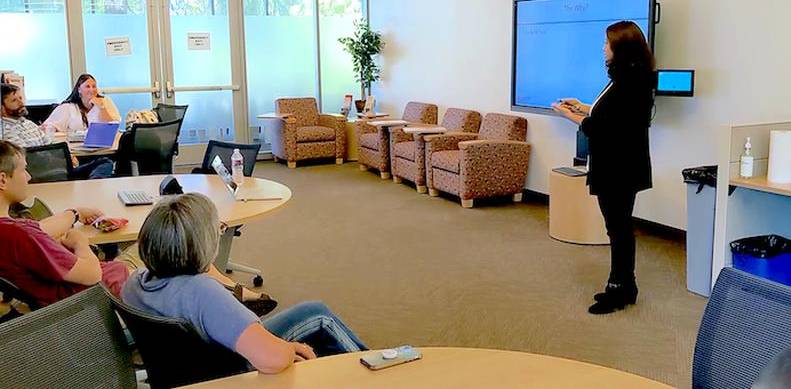 Join us for Lessons from the Lounge where faculty can share with others a technique or technology that they have been using to enhance their teaching. It can be something they do in-class or outside of class. The lesson should be applicable to all disciplines. The following faculty have agreed to share their expertise with a short presentation followed by a question and answer period. Let's learn from each other and grow together.
All sessions held in the Office of IDEAS Lounge (Library 2133). Additional sessions will be added throughout the academic year.
If you have questions or a "lesson" you'd like to present, please contact Natalie Muñoz.
Spring 2023 Sessions
Build Your Own Final: Empowering Student Creativity Towards Meaningful Summative Assessment | Feb. 7 at 12:30 p.m.
Presenter: Dr. Travis Cronin
Description: This workshop will describe a final project that undergraduate students design themselves. These projects are guided by the course goals, and the students are given considerable latitude to engage in a creative project that summarizes their learning in a core area of the course. Most students choose to work independently, yet group work is encouraged. Students are asked to self assess their grade for their project. Successes and challenges will be shared.
Equitable Grading Practices and Rethinking Assessments | Feb. 15 at 12:00 noon
Presenter: Dr. Mario Banuelos
Description: This talk will introduce the concept of equitable grading practices in assessments and the influence of bias in grading. Examples will be highlighted and the talk will end with alternative summative assessments in STEM courses.
Adobe Creative Cloud Express: It's Not That Hard! | Feb. 23 at 12:30 p.m.
Presenter: Faith Sidlow
Description: Learn how to get your students excited about writing by turning their work into a beautiful and professional-looking webpage. Adobe Express helps students enhance their writing and communication skills with images, links, videos and text formatting.
Stop writing so much in the rubric! | March 1 at 12:00 p.m.
Presenter: Frederick Nelson
Description: We will examine the use of a Single Point Rubric to engage learners in a simpler and meaningful approach to assessment. I will share several examples of Single Point Rubrics that I use, including some that were constructed by students as self-assessment exercises.
Virtual service learning: How to provide meaningful global community service | March 14th at 12:30 pm
Presenter: Dr. Nupur Hajela, PT, DPT, Ph.D.
Description: Lessons learned by reimagining service learning in a virtual environment by providing learning experience to the students with focus on reflections and research. How to leverage technology to provide creative solutions towards emerging service needs in global communities.