Jan and Bud Richter Center
Community Partners

Our Community Partners are co-educators of our students - imparting wisdom, skills, insight, and information about the culture of our community.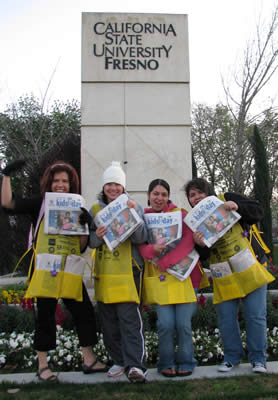 The Jan and Bud Richter Center for Community Engagement and Service-Learning is the central program at California State University, Fresno, charged with promoting the value of community service-learning to students, staff and faculty. The Richter Center works to connect the nonprofit community with service-oriented resources at the University. Our goal is to provide outstanding learning experiences for our students and provide meaningful service to the community. Along with our community partners, we work toward creating a better community through service and learning.
The Richter Center can be a resource for community benefit organizations (CBOs) looking for one-time and short-term volunteers or for volunteers with a specific expertise looking for a long-term volunteer placement. Community agencies are encouraged to visit the HandsOn Central California website to post volunteer opportunities. Students can visit this site to search for volunteer placements. This resource is free of charge to CBOs and a valuable tool in recruiting university volunteers.
Fresno State students are an amazing group of unique individuals. As with any group there are many different personalities, motivations and degrees of commitment.
It is important to spend some time getting to know the students that come to your agency. What are they looking for? What are their interests? The more time you spend with students on the front end of their service the better the overall experience for both the student and the community benefit organization (CBO).
Tips for Working with Students:
Treat student volunteers as any new employee. Give them the background of your organization. Give them a tour and orientation.
Let them know why your work in the community is so important.
Give them tangible tasks. Stuffing envelopes may be greatly needed but make sure they are doing something that makes them feel like they are making a difference.
Put yourself in their shoes and realize you are a co-educator for this student. For many of the students this will be their first experience in a work setting. The more effort you put into teaching them, the more you will get out of them.
If the student is serving with you to fulfill a course requirement, find out what class they are enrolled in and who the instructor for the course is . . . if you see a pattern of students coming from one class/instructor, it is a great time to build a relationship!
"Try to sell your community service opportunity as an event that will attract students for reasons besides service. Many service events can also build leadership skills, give students a chance to network, or allow them to explore a new facet of the community. Be sure to point these possibilities out to students." – Fresno State Student
The Richter Center is happy to help you recruit Fresno State students for your volunteer needs. To help expedite requests and ensure complete information, we've created an online process for submitting your opportunity via our social media accounts (Facebook, Instagram, Twitter) and our biweekly newsletter.
The timing of social media and other marketing will be based on a number of factors, so you are advised to submit information up to one month in advance, and no later than one week in advance of the event or need. The information below will be required in order to submit your request.
Organization name
Organization website
Name of event/opportunity
Contact person name
Contact email and phone number (Note: this information will be posted online)
Date(s) of event/opportunity
Time(s) of event/opportunity
Location of event/opportunity
Brief description of event/opportunity and volunteer responsibilities
Other applicable information (such as a registration link, deadline to register or apply, etc.)
Social media handles for your organization
Upload a photograph and/or flier. Note that social media posts with an accompanying image are more likely to get traction. Please be aware that we are reducing the number of fliers we post to social media as images with text are not accessible to screen readers. However, we can still share fliers through other avenues. Thus, we encourage you to submit both a photograph and a flier.
Please note that the newsletter goes dormant during summer/winter breaks.
For questions or more information email Trisha Studt, Community Partnerships Coordinator, at tstudt@csufresno.edu or contact her at 559.278.7508.
"There are many students on this campus who would be very willing to lend a hand wherever it's needed…the key is to interest the students and to let them know that what they'll be doing is important and will make a difference." – Fresno State Student