Jan and Bud Richter Center
ENP Reads
In 1997, Fresno State developed the Fresno Reading Enrichment and Academic Development through Service (Fresno READS) project with the goal of helping young children improve literacy skills, while fostering a genuine love of books and reading. For many years, this project successfully recruited, trained, and placed Fresno State students as mentors and tutors for children in kindergarten through sixth grade.
Today, Fresno State has partnered with ENP Reads, a program by Every Neighborhood Partnership (ENP), a long-time community partner. Since 2008, ENP has connected churches and community partners across the city with elementary schools, and equip them to serve through their active presence in every neighborhood. This new partnership will continue to provide Fresno State work-study students with valuable service and learning opportunities.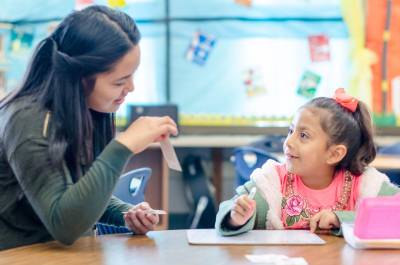 ENP Reads Mentors
Every Neighborhood Partnership (ENP) and Fresno State partner to support ENP Reads, a local initiative focused on helping our elementary age students read at grade level and help build resilience in their lives. We train and place mentors at our local elementary schools during the school day, at after school programs, and on Saturdays. ENP Reads Mentors will work with a team of mentors at one elementary shool site/neighborhood to run the programs listed below. Each mentor may work any combination of the three programs.
Literacy Mentor Program - support K-6 students in classrooms one on one on their early literacy skills (training and curriculum provided). Support the classroom teacher with other duties as needed. Potential work hours are Monday through Friday from 8am-3pm.
Read Fresno After School Program - support after school literacy intervention program that serves 20-25 children in grades K-6th. Plan and implement lessons in small and large groups under the guidance of a site lead and in collaboration with a team. Potential work hours are Monday - Thursday 2:30pm-6:00pm.
Saturday Sports Program - engage and play with students on Saturday mornings at elementary school sites. Lead games and activities as needed. Potential work hours are Saturdays 9:00am-12:00pm.
Visit the Become a Mentor page for application materials and position specifics.