Now recruiting 2023-24 Fellows! Priority Application Due March 15, 2023.
Jan and Bud Richter Center
Central Valley College Corps
Invest in your community. Invest in you.
Central Valley College Corps Fellows provide 450 hours of service to the community, and engage in personal and professional development, all while earning money for college.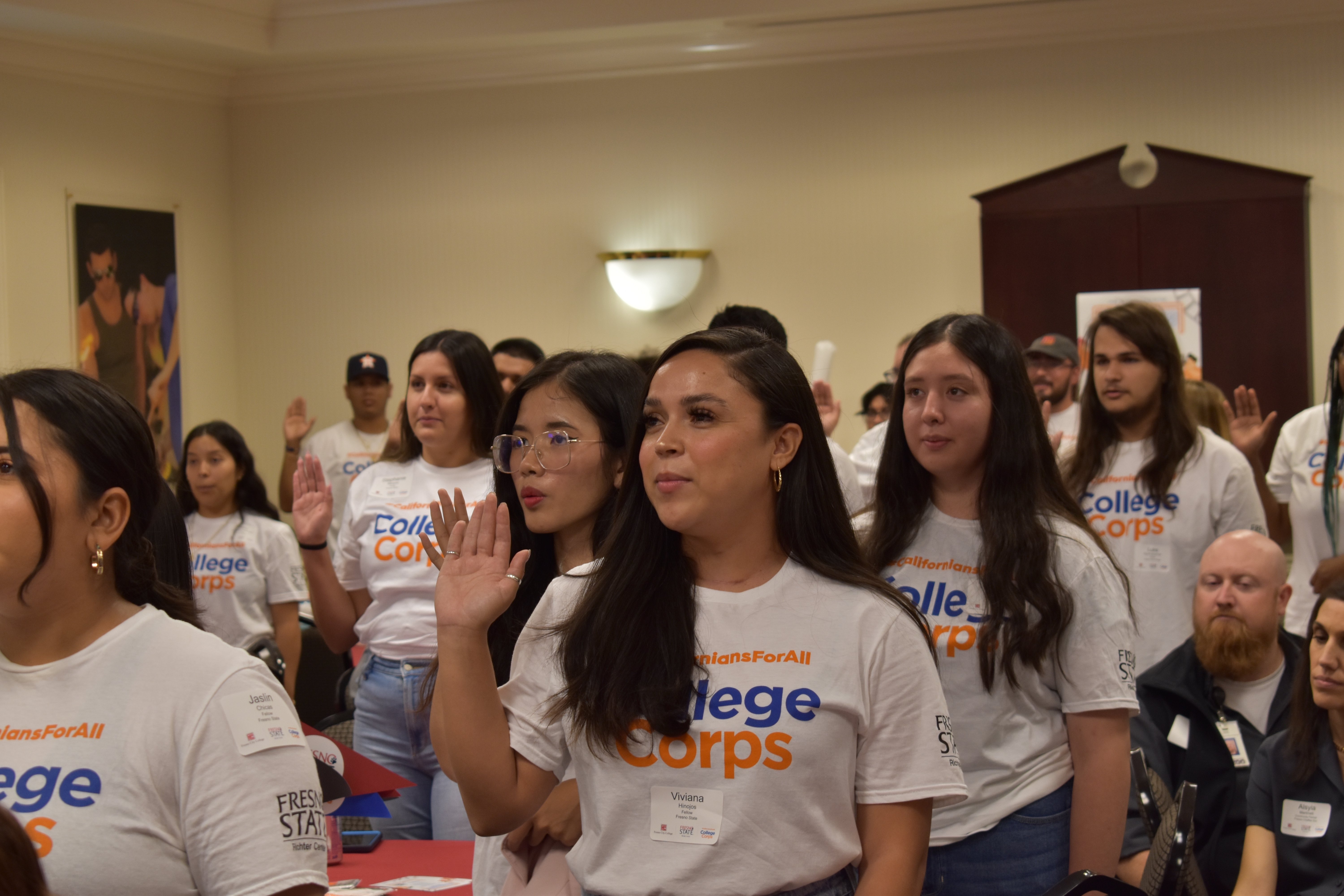 Applications Open for 2023-24 CVCC Fellows
We are now accepting applications for 2023-24 Fellows. The priority deadline is March 15, 2023. Final application deadline is April 15, 2023. Learn more about the program and application process, including how to sign up to attend an informational session, by viewing the tabs below.
Complete the Application in Adobe Sign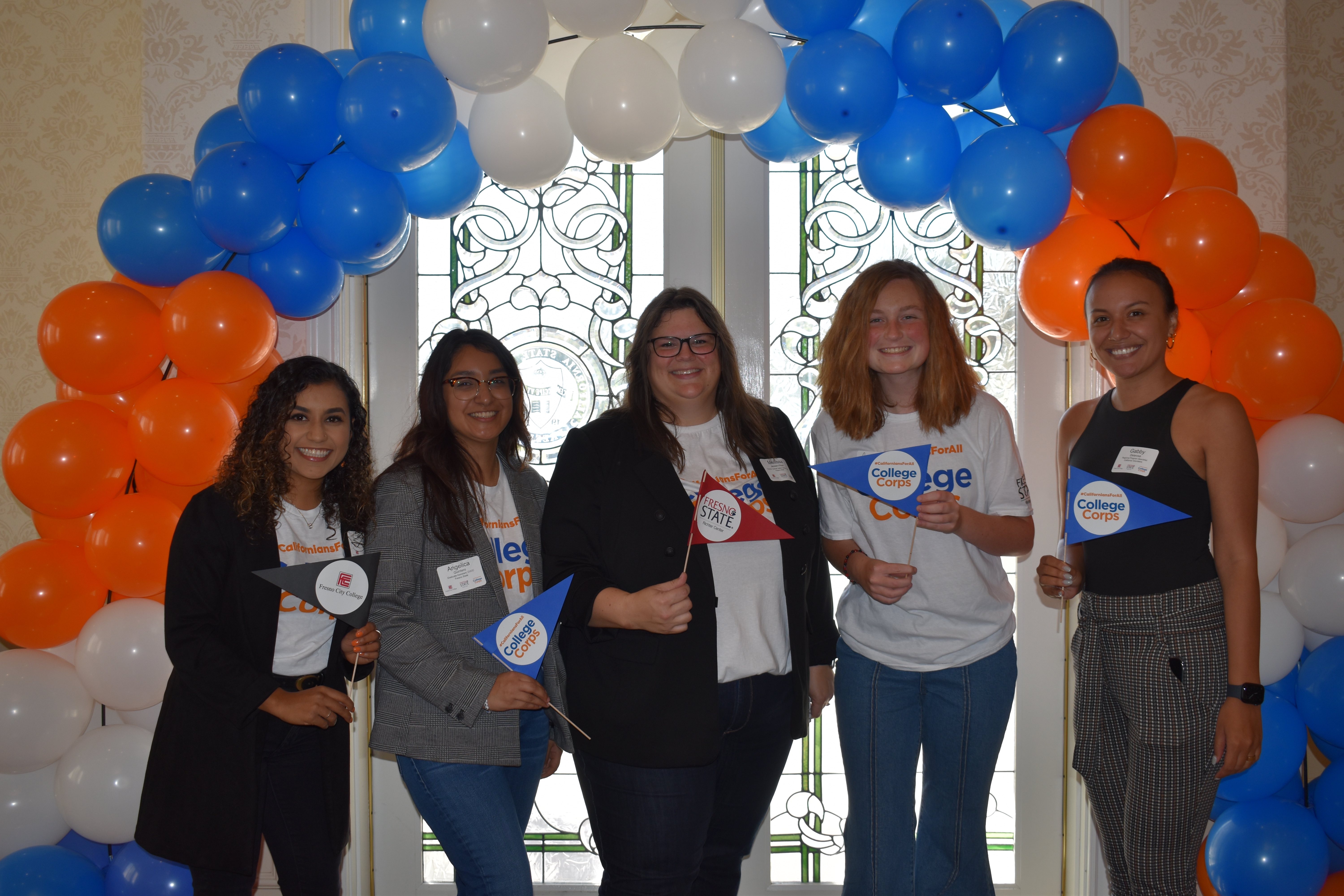 Join Our Team!
We are currently accepting applications for a Program Support Specialist. This is a full-time, benefitted position through the Fresno State Foundation. Ideal candidates will have exceptional organization and budget management skills. Additionally, we're looking for applicants who are committed to our shared value of supporting student success. Join our team and help make a difference in the lives of our students and our community!
Apply today!
The Jan and Bud Richter Center for Community Engagement and Service-Learning at Fresno State is host to the Central Valley College Corps (CVCC) program--a grantee of #CaliforniansForAll College Corps program, which has three main goals:
Create a generation of civic-minded leaders with the ability to bridge divides and solve problems.
Help low income students graduate college on time and with less debt.
Address societal challenges and help build more equitable communities across California.
We are currently accepting applications for 2023-24 Fellows.
What We're Looking For
Passion for working in partnership with communities to make positive change;
Flexibility to work in different areas and adapt to changing circumstances;
Growth mindset and eagerness to try new things and explore new ideas;
Interest in connecting with and learning from other students and partners across the state;
Willingness to be an ambassador for the Fellowship on campus and beyond;
Interest in developing as a leader on your campus and in the community;
Ability to fully commit to the program, its intent, and its requirements.
When Will You Serve?
Service will take place between August 1, 2023 - May 17, 2024, with some pre-service events taking place during summer 2023
Fellows must commit to serving for the full academic year
What You'll Do
Fellows will work with local community benefit organizations in the areas of education, food insecurity, and climate action, in order to build healthier and more equitable communities across California. They will do this by working closely with select partner organizations who are dedicated to positively impacting our region.
What You'll Gain
A living allowance paid monthly throughout the service term, plus an Education Award earned upon completion of 450 service hours. Total financial benefit up to $10,000.
Academic credit through participation in a course that will meet on Fridays from 3:00 - 4:50 PM
A real-world job experience and skills to add to your resume
Access to training, networking, and professional development opportunities
Connections with Fellows across the state via a virtual community platform and in-person regional events
A sense of pride and accomplishment in working toward a common purpose alongside young leaders from across the state.
Where You'll Serve
Central Valley College Corps offers service positions in local nonprofits and municipal agencies within the greater Fresno area, including some positions in outlying communities.
Applications are now open for 2023-24 Fellows!
Eligibility Requirements
In order for a student to participate as a Fellow in the Central Valley College Corps (CVCC), they must meet the following basic criteria:
Have a high school diploma or its equivalent (i.e., GED) by the beginning of the 2023-2024 academic year
Enrolled full-time, undergraduate student attending Fresno City College or Fresno State for both fall 2023 and spring 2024
Currently be in good academic standing and remain so throughout the academic year; minimum GPA: 2.0
Commit to actively participate in the program and to maintain full-time enrollment status for the entire academic year—August 1, 2023 – May 17, 2024
Not planning to participate in a semester off-campus (ex. Study Abroad) during the upcoming academic year
Availability to complete 12-20 hours per week
This Fellowship is designed to target low- to moderate-income students. Students selected to join the Fellowship should therefore meet at least one of the following criteria:
How to Apply
The application process for this program is rather extensive. Below, is an outline of the steps to follow. Be sure to follow each of the steps and frequently check your email throughout the process to ensure a timely response to all requests for information and interviews.
Student completes and submits a full application by the deadline

Complete the application using Adobe Sign. Be sure to follow all instructions as stated on the first page of the application.

Applications are screened for eligbility, completion, and other selection criteria
Applicants are invited to participate in a pre-screening interview
Students who pass through the pre-screening process have their applications forwarded for consideration by community partner host sites
Community partner hosts contact applicants and conduct interviews. Parnters make final selections for their placements and offer a position to student.
Student accepts offer from the community partner host site, confirms placement with CVCC staff, and begins the onboarding process. Be advised that any offer for a position is conditional upon eligibility verification and successful completion of onboarding requirements.
Attend an Information Session to learn more about the program and the applications process.
Visit https://bit.ly/cvccinfo23 to register for an information session.
Friday, March 24 at 12:00 PM via Zoom
Wednesday, March 29 at 10:00 AM via Zoom
Thursday, April 6 at 12:00 PM via Zoom
Need supporting while completing your application? Stop in to one of our Drop-In Sessions.
All sessions will take place at the CVCC office (McLane Hall Annex, Room 22) and online via Zoom. Visit https://bit.ly/cvccinfo23 to register.
Monday, March 13, 1:00 PM - 4:00 PM
Wednesday, March 15, 10:00 AM - 12:00 PM
Wednesday, April 12, 12:00 PM - 3:00 PM
Thursday, April 13, 10:00 AM - 1:00 PM
Do I have to be a full-time student to participate?
Yes. Fellos must be enrolled full-time at Fresno State or Fresno City College for the entire 2023-24 academic year.
Where will I complete my service?
While we are still finalizing placements for the 2023-24 cohort we can tell you that most service will take place in the greater Fresno area and will focus on Climate Action, Food Insecurity, or K-12 Education. Example community partner host sites include Every Neighborhood Partnership, the Poverello House, Fresno Metro Ministry, Sierra Resources Conservation District, and the Creek Fire Recovery Collaborative, among many more.
Can I choose my own service site?
No. Central Valley College Corps will identify placements in advance. We are in the process of finalizing these placements. During the application process, you will be able to view position descriptions for all placements and select your top choices.
Are there set hours for completing my service?
Yes. However, this is dependent on each placement. The position descriptions (mentioned above) for each placement will indicate the required availability.
Who can I contact if I need help or have questions?
Call the CVCC main office at 559.278.5515 and any of our staff will assist you. You can also email cvccinfo@mail.fresnostate.edu.