Jan and Bud Richter Center
Become a Community Volunteer
What Impact will You Make?
Being a Fresno State Bulldog means being committed to serving your community! For decades, our university has been committed to enriching the education of our students while positively impacting the community around us. Each year, thousands of your peers choose to serve others in a variety of ways. Each year for the last three years in a row, Fresno State has provided over 1 million hours of service to our community. That's over 3 million hours of service in three years! You, too, can be apart of this Fresno State legacy and make an impact on your community!
Did You Know?
Students involved in service typically:
Do better in school, are happier with their college education and graduate at higher rates.
Improve personal characteristics such as leadership skills, sense of community, self-esteem, communication skills and an appreciation of diversity.
Explore potential careers, experience their chosen career field and build their resume.
Address serious social problems by investing their time, talent and energy.
Get Involved!
The Jan & Bud Richter Center for Community Engagement and Service-Learning is here to help you find a meaningful and suitable service opportunity. The Richter Center provides a number of resources to help you identify service opportunities. Below is a short list of sample service projects in which students have previously been involved. Take note, however, that this list is not exhaustive; truly the variety of service projects available are only limited by your imagination.
Short term service opportunities: save as many as three lives in as little as one-hour by donating blood at one of Fresno State's blood drives (held twice a semester); participate in a one-day service event like Make a Difference Day (held in October) or Kid's Day (held in the Spring)
Alternative Spring Break: Engage in a service project-taking place over the spring break. In this short period, students have provided upwards of 32 hours of service to one community based organization.
Enroll in a service-learning course
Engage in a service related internship
The possibilities for a service opportunity are endless! Stop by the Richter Center in the Thomas Building, Room 107 or call us at 559.278.7079 to get started today!
What Students Are Saying
If you're looking to volunteer, just dive in headfirst! Even if you don't enjoy the first activity you do, you'll probably meet some people who can point you in the right direction.
—Fresno State Student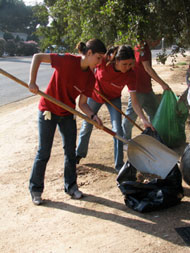 Fresno State Students clean-up a trail at Woodward Park on a previous campus-wide day of service.