Jan and Bud Richter Center
Jumpstart Fresno
Building School Success, Family Involvement and Future Teachers – One Child at a Time.
Jumpstart Fresno was started at California State University, Fresno in the Fall of 2001, and is located in the Jan and Bud Richter Center for Community Engagement and Service-Learning. Jumpstart Fresno equips and trains Fresno State students to provide language, literacy, and social-emotional programming for preschool children from underserved communities. Jumpstart members are fueled by the core belief that providing high-quality educational opportunities to all young children contributes to breaking the cycle of poverty.

Jumpstart Fresno was started at California State University, Fresno in the Fall of 2001. With its solid emphasis on service to the community, Fresno State continues to provide strong support to Jumpstart in the program's continued development. This support has allowed Jumpstart to continue growing and providing opportunities for many students to serve the children and families in Fresno.
Jumpstart Fresno has grown from 40 Corps Members to now over 70 dedicated Corps Members, reflecting the vast diversity of California's Central Valley. Our program draws students from an assortment of majors, including Liberal Studies, Psychology, and Marketing, among many others.
Our Corps Members work at full strength with our program partners in Fresno: Joyce M. Huggins Center at Fresno State, Central Valley Children's Services Network, Reading and Beyond, Stone Soup Fresno and Head Start. Our partnerships with these programs allow us to have an even greater impact on the Fresno community and our efforts to work toward the day that every child in America enters school prepared to succeed.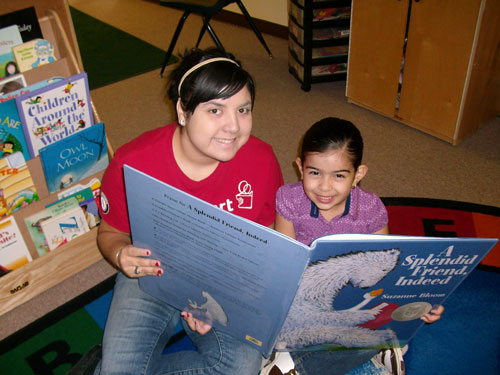 Thank you for your interest in Jumpstart Fresno, at California State University, Fresno!
We accept applications starting in mid-March for the following academic year.
Below you will find program requirements and program information:
Students will work on a team to implement lesson plans in their assigned preschool classroom.
Starting pay for students eligible for Federal Work-Study is $16.00/hr.
Students can also receive, at the end of their service, a Segal AmeriCorps education award, worth just over $1,300.00
There are required training sessions during the Fall and Spring Semester.
Jumpstart positions are one year commitments, from September to May.
Students may work 10-20 hours/week.
Jumpstart offers four options for position hours. Students may apply for or request a position for any of the four slots, depending on your availability:
Mondays/Wednesdays 8:00 AM -11:00 AM
Mondays/Wednesdays 2:00 PM - 5:00 PM
Tuesdays/Thursdays 8:00 AM - 11:00 AM
Tuesdays/Thursdays 2:00 PM - 5:00 PM
Applications accepted every spring!