Office of Institutional Effectiveness
OIE Strategic Priorities and Plan
AY 2009-2010 to 2014-2015
The Office of Institutional Effectiveness (OIE) is committed to fostering and supporting a culture of evidence-based planning and effectiveness within our university. OIE envisions engaged, responsive, integrated, and applied planning, research and assessment aimed at assisting the university in achieving its goals. This leading-edge department will gain internal and external recognition for user-friendly service that integrates planning and assessment and directly impacts the university's success. This vision and the goals designed to achieve it are derived from the OIE manager's assessment of the field and previous experience, in combination with the CSU, Fresno strategic plan and vision and the WASC educational effectiveness visiting team report. Specifically:
Develop a campus-wide culture of outcomes assessment (Source: CSU, Fresno Strategic Direction)
Commit to continuous improvement by planning, implementing, and evaluating new strategies and improving the university's operational and technological infrastructure to enhance instruction; support scholarship, research and creative activity and service; and facilitate the delivery of support services for students, staff, faculty and alumni/ae.
Demonstrate and communicate the quality of the university's programs, its students, faculty, staff, and alumni/ae and its many and diverse centers of excellence. (Source: Priorities in the Vision for CSU, Fresno)
Training in how data can be used to promote achievement of goals
Higher level of data analysis
Faculty assistance with designing assessment methods and collecting and analyzing data
Integrate assessment/evaluation and planning
Regularly evaluate institutional research (Source: Report of WASC visiting team educational effectiveness review to California State University, Fresno, November 30, 2004)
In responding to these priorities, the OIE goals and some of the strategies to achieve them (based on assessment of current department processes and products, discussions with campus leaders, and the Provost's Proposal for Expansion of IR) are:
1. Meet campus need for data, analyses and reporting
1.1. Continue filling ad hoc data requests from internal and external customers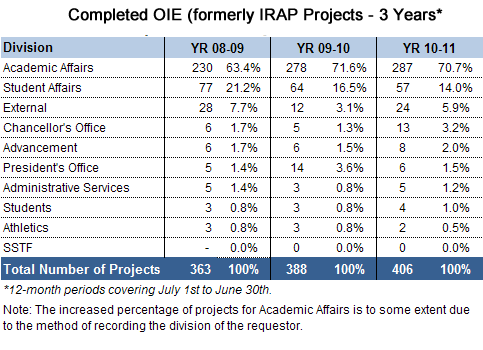 1.2 Review and revise website and encourage its use
The OIE website is constantly updated. Substantive new additions are announced to the campus community via e-mail. When callers request data that is available on the website, they are directed to and guided through the site over the phone if they have internet access to assure that they are aware of the accessibility of commonly requested data.
Based on number of unique visitors, OIE website hits continue to increase steadily every year. In addition, when new information is posted on the site and announced to the campus community, the number of unique visitors on that day at least triples. See OIE Web Statistics below.
1.2. Review and revise existing publications
Starting in fall 2010, OIE shifted from hard copy publication of the Data Book and the Quick Facts to e-publishing. This move benefits OIE and the university in a number of ways: 1) eliminates printing costs; 2) makes the data book more accessible and 3) is easily disseminated via a downloadable pdf.
1.3. Conduct high-level, in-depth analyses on selected projects
Research has been conducted on several issues that support the goals of the university's strategic and academic plans. Examples include student retention and graduation, student writing skills, student engagement and learning, and faculty satisfaction and learning goals. This link will take you to OIE's Reports and Studies page.
1.4. Provide high-quality customer service (e.g., deadlines and communication)
For AY 2010-11, OIE met approximately 99% of its deadlines. OIE receives praise for the quality of its work and publications from the university community.
2. Demonstrate and support assessment and continuous improvement
2.1. Promote discussion, reflection, and use of data, research, and assessment findings for scholarship and institutional and educational improvement
In Spring 2009, the OIE manager led the formation of the Learning Assessment Team (LAT), which is composed mostly of faculty members with an expertise in assessment. LAT aims to strengthen outcomes assessment across the campus both in quality and ease of implementation by promoting and facilitating the sharing of resources, best practices, expertise, and assessment experiences. This collaborative approach is intended to reduce labor, raise the overall quality of assessment, support assessment coordinators, and recognize and utilize faculty with discipline- or methods-specific assessment expertise. Members are providing feedback to the Provost and departments on the status of programs' assessment.
Every fall, OIE holds an annual Assessment Coordinators meeting where ACs gather to share information and exchange ideas on techniques, resources, best practices, expertise, experiences and issues related to assessment. The Provost, OIE manager and LAT Members also provide an update on the status of assessment on campus.
In 2010 and 2011, the LAT reviewed all undergraduate assessment reports and plans. Feedback from the review was provided to the departments and the provost established assessment goals for each for the year based on LAT's review.
Each academic department develops and implements a Student Outcomes Assessment Plan (SOAP). These are posted online to demonstrate that all programs have a current and workable SOAP and to facilitate faculty sharing of assessment resources and expertise. The SOAPs can be viewed here.
A summary of common learning goals, outcomes, and assessment methods at Fresno State are available on the OIE website. This information was compiled so that faculty can easily see which programs are assessing the same learning outcomes and which methods are being used. As with the other pages on the OIE site, this is intended to facilitate the sharing of information.
OIE's Effectiveness and Assessment Grants pages, as well as the publication, Lessons Learned, include examples of how assessment results are used for program improvement.
2.2. Provide assessment/evaluation consultations to academic, student services, and administrative units
Consultations have increased following LAT's assessment of the different programs' undergraduate SOAPs and subsequent recommendations based on the reviews.
2.3. Evaluate OIE annually and more thoroughly every three years
In February 2011, OIE underwent its 7-year program review. IUPUI's renowned assessment expert, Dr. Trudy Banta, headed the program review team.
2.4. Develop new publication to showcase departments for whom assessment has resulted in improvements (document and publicize effectiveness via assessment).
2.5. Assist departments in implementing SOAPs
The Provost's Office/OIE annually awards mini-grants to faculty for implementing assessment projects related to their SOAP. OIE/ CSALT workshops and presentations provide faculty assessment training, and the OIE manager consults with faculty on SOAP development and assessment methods. Other methods of assistance provided include survey development and administration ( e.g., Biology & Music Curriculum Map Survey and Nursing's Student Ratings of Instruction Summer Survey).
Data packets are developed and utilized for programs undergoing review. A list of specific data elements included are shown in these PDFs - Undergraduate and Graduate. The data packet is modified as needs arise. In 2010-11, new data elements (application data and enrollment of double majors and minors) were added to the package.
Templates in both Word 2007 and 1997-2003 showing the components that should be in the SOAP, are readily available for users to download on the main SOAPs page.
The annual report to the Provost is due at the end of the spring semester. In order to help ACs respond to the Learning Outcomes section of the report, the Learning Assessment Team (LAT) put this sample report together.
3. Assist in integrating assessment and planning
3.1. Apply data from multiple sources to analyze university issues, establish goals and evaluate implemented strategies as requested
OIE has conducted numerous studies related to strategic and academic goals both by request and proactively. Some of these can be seen in the Research and Reports section of our website.
OIE led or assisted in the creation, design and/or administration of numerous online and paper surveys for the university and various programs. Examples include the following:

- Administrative Services (Spring 2009)

- Creative Institute - Fashion and Acting Student Evaluation (Spring 2009)

- Academic Success Course (Spring 2010)

- Writing Center Assessment (Summer 2010)

- Association of Public & Land Grant Universities (Fall 2010)

- Biology Undergraduate Curriculum Map: Scoring Sheet for Individual Courses (Fall 2010)

- Draft Strategic Plan For Excellence IV Feedback (Spring 2011)

- NSSE Student Engagement (Spring 2011)

- HERI Faculty Survey (Spring 2011)

- Department of Music's Curriculum Map Questionnaire (Fall 2011)

- 3rd Year Students' Success Plan (Fall 2011)

- Graduating Student Survey (Spring 2011, Fall 2011 and Spring 2012)
3.2. Serve on appropriate campus and external committees that will facilitate integration
The Associate Vice President for Institutional Effectiveness is a member of the following:

1) Strategic Planning Committee,
2) Student Success Task Force,
3) Graduation Rate Initiative Committee,
4) Program Review Action Planning,
5) President's Commission on Human Relations and Equity (PCHRE),
6) Institutional Effectiveness Team,
7) WASC Core Team,
8) Information and Educational Technology Coordinating Council, and
9) the Learning Assessment Team.
3.3. Develop communication and educational mechanisms to facilitate integration as well as processes and structures as appropriate
An Effectiveness page was developed on the OIE website to document and showcase use of evidence in planning and assessment.
Disseminating OIE data and research in multiple forms, i.e., OIE Briefs and Reports, appropriate to specific audiences and purpose, to help foster use of evidence.
Assessment meetings and trainings are offered.
The following methods are used to determine the extent to which some of these goals are met and to collect information for subsequent OIE planning.
Resource Links
Campus Links